Announcing the Heroes Evolved Championship 2016 Winner
Tournament November 15th | By HE Team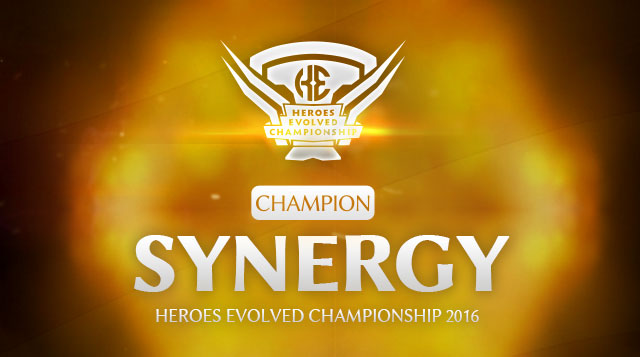 Congratulations to team SYNERGY, winner of the 2016 HEROES EVOLVED CHAMPIONSHIP.
SYNERGY started out in second place on the 1st day of Group Stage, and overtook RAGETEAM to be #1 on the second day. They then continued to stick in first place with a high score of 2735 and a win rate of 89% until the end of Group Stage. Then in the first day of Playoffs, SYNERGY beat TEAMC with the score of 2:0 to qualify for the finals. Things moved on to the the final match: SYNERGY vs EMPIRE.
First Round. SYNERGY had a very strong start, controlling the map to make sure EMPIRE had no opportunity to make any early plays. SYNERGY took the Zakkar buff and went for a hard push, but EMPIRE held strong in their defences, and turned it around. EMPIRE won!
Second Round. SYNERGY again comes out strong in their early game, leading the game until the midterm. As the EMPIRE carry gained strength, the fight started to heat up, with both teams showing extreme skill in a balanced matchup. The game went on for over an hour, and SYNERGY made their move by seizing a critical opportunity, and winning the game!
Third Round. EMPIRE started playing very aggressively from the get-go this round, leading the game early on. The battle raged and blows were exchanged, but a series of well seized opportunities and clutch plays lead SYNERGY to take victory in the end.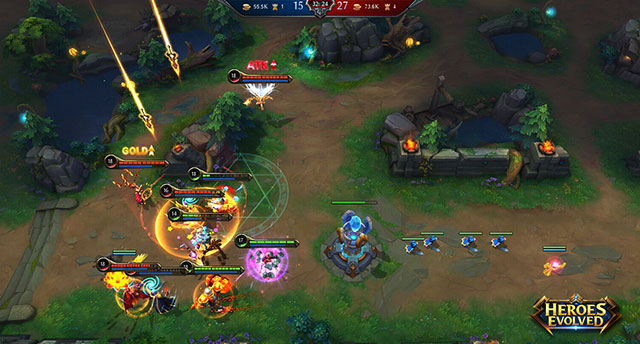 This intense final match ended with a score of 2:1 for SYNERGY, making them the ultimate winners in this tournament!
Congratulations to all the members of SYNERGY for a well deserved victory.
XiAoXiaO - Antonio Ponte
?Mysterious? - André Matheus
Copper - Leonardo Yudi
Kyou - Lucas Akira
iCezX - Joilson Santos
We hope Synergy will carry on the fight on behalf of America in the upcoming world final taking place in China this December.
Finally, we'd like to thank all teams, players, and audience in HEROES EVOLVED for their support and effort in making this championship a success. We will strive to bring you more wonderful and exciting competitions as the game continues to Evolve. See you next year!
To watch the replays for yourself, check out Heroes Evolved on Twitch.Tv.
The first round can be seen here.
The second round is viewed here.
The important, final round can be watched here.
To join the community, head over to the Forum, or send us a message directly on Facebook.