Beauty and the Feast Major Update
In-game events November 29th | By HE Team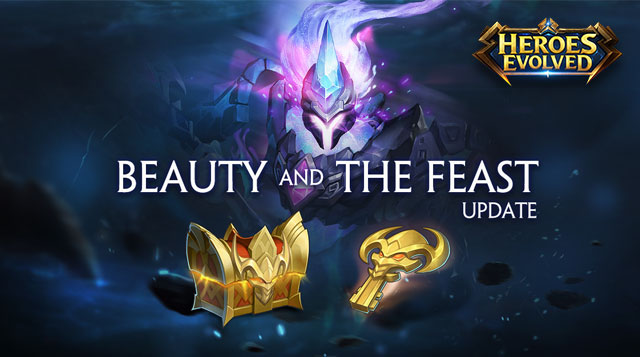 November has been a crazy time for us, between our first ever tournament and this month's update, we have been rushed off our feet. It was also Thanksgiving, one of those special times we share with family, have a great dinner and you get to play video games all day. We hope you had a great month!
This update is called Beauty and the Feast for several reasons. The first being the big, beautiful, major changes that will make the UI look much better and easier to navigate. The client is also getting a new look and feel, when you log in don't be shocked. We have also made some major changes and completely redesigned the experience. Since it was Thanksgiving, or Turkey day as we like to call it, we wanted to do a special event related to the day of saying thank you! Let's see what you can expect.
In this update we are introducing a brand new hero Chronos - master of time and space. Chronos is an intelligence melee hero, also well known as a nuker and disabler. Between November 30 to December 6 Chronos is at a discount, players can also try this hero for free during Thanksgiving Event.
Another major feature in this update is the new treasure chest system, and we are releasing our first Beauty Feast Treasure. Players have a chance to receive Treasure Chests by completing Solo and Party matches, while keys for opening Treasure Chests can be found in the Store. Open the Treasure Chest to find out what items are in it. Players will not receive duplicates until they have received one of each guaranteed item. Some players might be lucky enough to receive rare bonus items in addition to the guaranteed items. In our first Chest, there is a super rare hero set - Feathered Spirits for one of the most popular heroes Minerva.
In future updates players will also be able to trade varied Treasure Chests, as well as rare bonus items, at the Trading Post with other players via Gems. Players can also dissolve duplicates from the Treasure Chests into points to purchase other items.
You can find out more details in our featured update page here.
Let us know what you think of the update via the Facebook page here, or join the community forums here.