FAWNA's Hunter Gatherer skin released today.
Heroes & Skins October 6th | By HE Team
If you have yet to meet FAWNA, you may have heard from some players that there is a character that is great to play, hard to counter and slightly annoying when they are not on your team.
Say hi to FAWNA, a firm fan favourite (or monstrosity) because he is fast, has ranged attacks, and can get away from danger in the blink of an eye! We're sure FAWNA will be around to bug enemies and friends alike.
Today we're here to talk about some new stuff! Mainly FAWNA is getting a new outfit, the Hunter Gatherer Skin is available today, embrace your inner animal and show everyone what separates man from beast.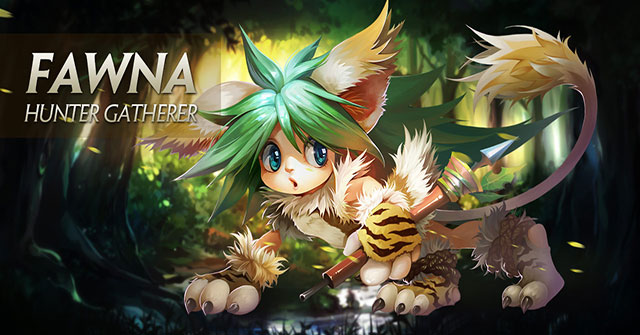 To celebrate the launch of the new skin and Heroes Evolved the price has been reduced to 700 Gems, only until October 12th however!
And if that was not enough, if you equip the Hunter Gatherer skin and join a matchmade game in any map, Altar of Strife or Valley of War, you can win some cool stuff! Complete two games and receive 2 x Resurrection Stones, Accumulate 10,000 damage and receive 100 gold!
Gear up with the new Hunter Gatherer skin for FAWNA and unleash his inner beast!