Heroes Evolved Championship Details
Tournament October 20th | By HE Team
Dear players,
Here you can find the rules for the first Heroes Evolved Championship, anyone can enter if they meet the criteria. You can also find these rules on the signup menu, ingame.
The first Group Stage will take place: 28 October - 6 November. Followed by the Playoffs: 11-13 November. The CPL finals will be held in China 15-18 December. Players must be available for these dates, the announced winners must be available to attend the final in China.
Players are reminded that must be Level 10 or higher, and have rating points of at least 1500, to participate. Make sure you sign up today, you have to be in it, to win it!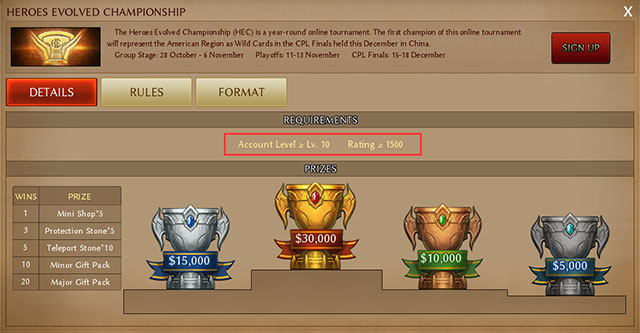 RULES & REGULATIONS
1.Matches are held on the Altar of Strife map, with Teams playing in a 5v5 format. Each team may ban 5 heroes. Victory: destroy your opponent's Aegis or force your opponents to surrender.
2.Group Stage matches are played from 19:30-22:30 EST through random matchmaking. Points are obtained by winning matches, and lost, for losing matches. The 4 teams with the most points at midnight on 7 November will enter the Playoffs.
3.In the Playoffs, the top four leading teams will be matched up based on their points earned, for best-of 3 knockout matches. Matches shall continue until a Champion is determined.
4.Participants must log in to the Tournament Server and enter their Team Lobby 15 minutes before their matches start. Players arriving more than 5 minutes late shall be penalized.
5.Participants will play tournament matches on Tournament Servers using official accounts with unique Tournament IDs. (If you have problems with your Tournament Account, please contact the referee and provide the number of your backup account. R2Games bears no liability for issues related to account abuse, misuse or misbehavior.)
6.Tournament Accounts must be level 30, and have access to all heroes (excluding banned heroes), and to max. level Glyphs and Jewels.
7.Participants need to provide their personal information and match that with their personal game account. Prizewinners shall be determined and notified based exclusively on these details.
8.During the match, only registered players and substitutes may participate. Substitutions made during match play require referee approval.
9.Times for all Playoff matches are system determined. Any Team that is late will be penalized by the system.
10.Opponents for the first match will be assigned randomly. If multiple rounds are being played, Teams will switch sides at the end of each round.
11.Teams that abandon their match will lose their Tournament qualification status and not receive any prizes.
12.Use of any third party software (except for voice chat) is strictly forbidden.
13.Tournament organizers shall have the final decision for all matters during Tournament play.