Heroes Evolved Championship finals!
Tournament November 10th | By HE Team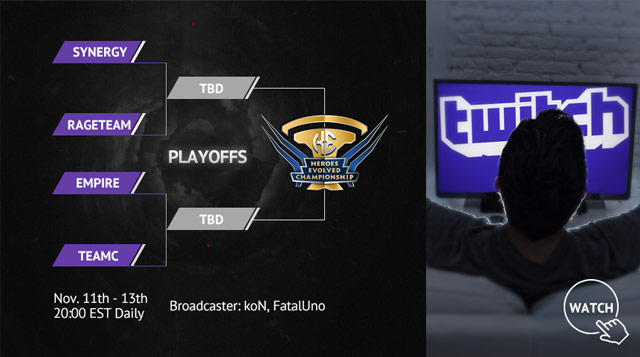 What a tournament, we have had easy wins and hard losses! All teams fought with great spirit and we thank every player for participating and watching. We aim to hold regular events, especially when we had so much fun with our first. We work extremely hard to make sure the competitions are fun, fair and entertaining.
We are very excited to announce, the semi finals will be streamed via Twitch. Both matches will take place on November the 11th, at 20:00 EST.
The first match will be Synergy vs TeamC, and the second match will be RAGETEAM vs EMPIRE, the matches can be viewed on the Tournament page.
Thank you for your support! We look forward to announcing the finals!
You can always send a message the Facebook page here, or join the community forum here.