Heroes Evolved Update - August 1st 2018
UPDATESAugust 1st
All Heroes Evolved servers will be down for 3 hours of maintenance beginning 3pm (UTC +8) on August 1st. The exact maintenance schedule is subject to change.

Logins will be disabled during this time. Ongoing matches may be interrupted, so please avoid starting any matches right before maintenance.
Here's a rundown of the Patch Notes:
NEW FEATURES
- New Play Mode: Heroes Royale.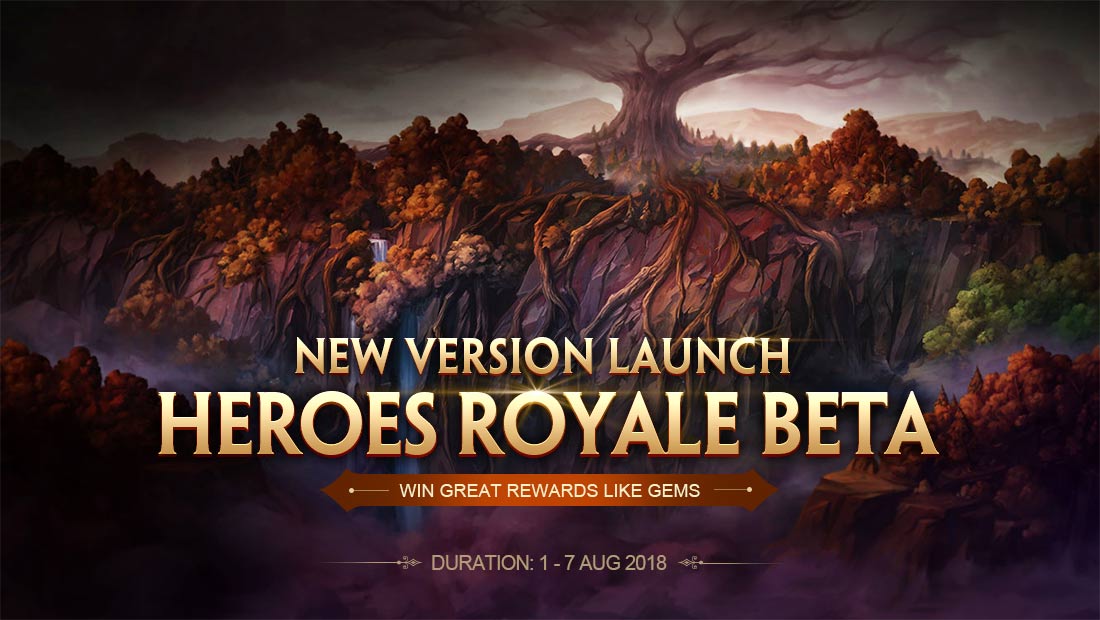 - All New Spectate System: PROS, HEROES, FRIENDS, CLANS.
- Emojis supported in the Chat system.
- Level 2 Password feature added.
- At Hero Selection: Tap and hold a player's avatar to see their pick history.
- New Achievements: 'AU PAIR', 'BRO BRO' and more.
-Adventure Mode: Chapter 9 released in Hero's Journey
NEW RELEASES
- Lucky Wheel rewards updated:
Minerva's limited skin - Passion Blossom
- Cupid Ward Skin: Received by unlocking Minerva's Passion Blossom and Aiden's Soaring Love.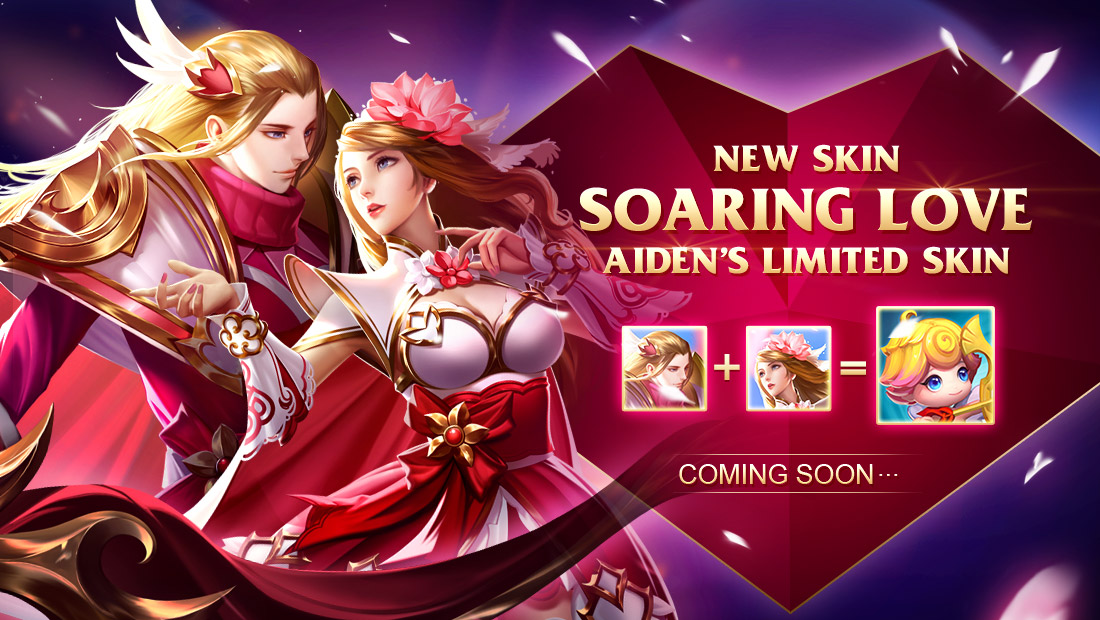 IMPROVEMENTS
- Ranked Match mechanisms optimized.
- Blessing point values adjusted;
- "FORMIDABLE": a new rating for players who had excellent performance but still lost the match, they will lose less Season Points instead. Now in beta for Diamond tier players.
- Training Camp - DEMO optimized: you can now pick your AI opponent.
- Player's character name and account level will be displayed at the Server Selection interface.
- Achievement System: 'ALL' and 'UNOWNED' tabs added.
- Home screen optimization: adjusted the button layout on the right side of the screen.
- Adjusted game balance (refer to HE Library for details).
- Fixed bugs.
Game Rebalance
NAZAR
CURSED SHACKLES
Cast Range changed from 1200 to 1300.
YIN-YANG JUDGMENT
Cooldown changed from 70/60/50s to 65/55/45s.
ARES
BATTLE AXE
Physical Damage changed from 30/45/60/75 to 35/50/65/80.
DIVINE JUDGMENT
Cooldown changed from 70/60/50s to 65/55/45s.
BOOTS OF SPEED
Passive Bonus Movement Speed changed from 8% to 10%.
POSEIDON
SOUL OF THE SEA
Cooldown changed from 15/14/13/12s to 14/13/12/11s.
TIDAL BARRAGE
Magical Damage changed from 140/200/260/320 to 160/220/280/340.
GUAN YU
ART OF WARFARE
Is now affected by cooldown reduction gear.
UNSTOPPABLE FORCE
Cooldown changed from 7s to 6s.
MIKIO
Health growth changed from 5 to 10.
Base Strength changed from 42 to 45.
SKYBREAKER
Mana Cost changed from 50/60/70/80 to 40/50/60/70.
EARTHSHATTER
Mana Cost changed from 56/60/70/80 to 50 for all levels.
BOMBOM
SEVEN-FISTED PUNCH
Bonus Physical Damage changed from 8% of target's max Health to 6% of Bombom's max Health.
The Effect Radius to nearby enemy units changed from 300 to 400.
SOLUS
BURNING ARROW
Duration changed from 4/5/6/7s to 7s for all levels.
SOLAR SPRINT
Dash Distance changed from 600/650/700/750 to 650/700/750/800.
MURDOCH
Base Agility changed from 38 to 32.
Agility growth changed from 1.9 to 1.6.
LIGHTNING ARMOR
Duration changed from 8s to 6s.
DWARVEN SHIELD
Health Regen trigger condition changed from 4 stacks to 6 stacks.
Magical Damage Reduction changed from 12%/16%/20%/24% to 10%/14%/18%/22%.
UNA
Base Attack Damage changed from 56 - 84 to 50 - 76.
Base Movement Speed changed from 500 to 485.
MOCKERY
Movement Slow changed from 15%/20%/25%/30% to 10%/15%/20%/25%.
MULAN
Base Strength changed from 45 to 42.
Strength growth changed from 2.3 to 2.0.
Base Armor changed from 6 to 2.
AMBIDEXTROUS
Chance to trigger changed from 22%/28%/34%/40% to 20%/25%/30%/35%.
PHOBOS
DESECRATE
Movement Slow changed from 10% to 5%.
EVIL DESCENT
Damage Reduction Duration changed from 6s to 5s.
Continuous Movement Slow changed from 30% to 25%.
Damage Reduction changed from 16%/20%/24% to 12%/14%/16%.
Berserk Bonus Attack Speed changed from 30/40/50/60 to 20/30/40/50.
DEATHZONE
Bonus Movement Speed changed from 12%/16%/20%/24% to 10%/14%/18%/22%.
Bonus Movement Speed changed from 35/45/55/65 to 10/20/30/40.
FREE HERO ROTATION