Heroes Evolved Update - June 6th 2018
UPDATESJune 5th
All Heroes Evolved servers will be down for 3 hours of maintenance beginning 3pm (UTC +8) on June 6th. The exact maintenance schedule is subject to change.

Logins will be disabled during this time. Ongoing matches may be interrupted, so please avoid starting any matches right before maintenance.
A compensation package of 150 Gems and 150 Dragonium will be provided after the update. Login to the game on time to claim them!
Here's a rundown of the Patch Notes:
NEW FEATURES
- All-new Match Mode feature 3-Way Battle released: fight in a grand melee of 15 players divided into 3 teams.
- All-new Adventure Mode features: Divine Coliseum, Ancient Rifts, Codex, Anima, and Auction House.
- Adventure Mode:
Adventure level cap raised to 80.
Revenge feature added to Champion's Arena.
Cancer Guardian unlocked in Zodiac Trials.
New chapters in Hero's Journey: Chapter 7 - Witch King and Chapter 8 - Twin Dragons.
Anima Shop added to the Store.
Adventure Mode info hiding setting supported.
Development system expanded to 120 stages.
New gear feature added to Adventure Mode Inventory: Reforge.
NEW RELEASES
- Mecha Skin series:
Arlequin's Cyborg Maiden and Bombom's Storm Surge are released. Collect the required number of Mecha Skins to get Mecha Storm Frame, Mecha Storm Nameplate and Specter Mecha (Observer Ward skin).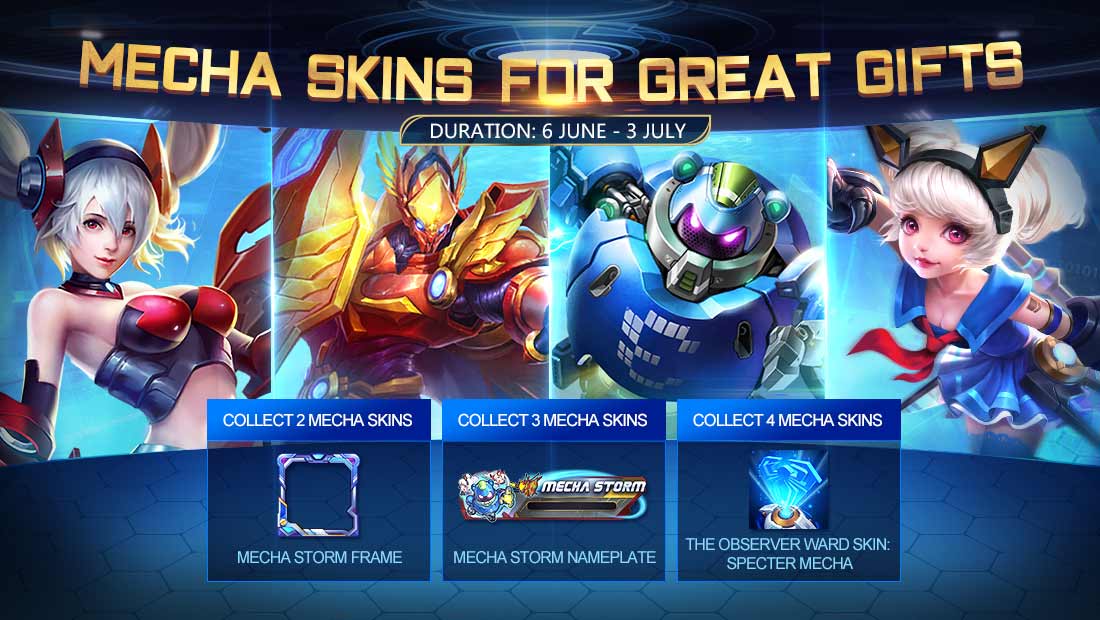 - New Mounts:
Phoenix: Acquired from Adventure Mode - Divine Coliseum.
Unicorn: Acquired by completing Ancient Rifts in Adventure Mode.
- Items added to the Adventure Mode shop:
Epic Shard and Legendary Shard.
IMPROVEMENTS
- Hidden avatars in ranked
- Invisibility mechanism optimizations: When approaching invisible units like Wolfram, you will be able to see an outline of a transparent figure as a warning.
- Eye of Heaven (Integrity) system upgraded.
Automatic notice of teammates AFK.
If a system detects intentional feeding by a player, the player's Integrity will be automatically deducted. If said player is reported by others, more Integrity will be deducted by said player.
- Hero swap feature added to Draft mode.
- Adventure Mode Relics of Chaos optimization: Players will become invincible for 1s after being revived.
- More 5-star heroes in Adventure Mode: E-stein, Wendy and Cherith.
- Merit Level cap raised: Diamond Medal added to the Merit system.
- Adjusted Dragos check-in event and added total check-in rewards.
- Batch Sale function added to Match Mode Inventory.
- Quick Merge function added to the Jewel Merge system.
- Chat now supports offline messaging.
- Home screen optimization: adjusted buttons layout in the function area at the right side of the screen.
- Bug fixes.
ADJUSTMENTS
- Gift system temporarily down for optimization.
- Chaotic Mode - Bloody Carnage has been removed.