New Server Announcement! A New Hero is Coming Soon!
UPDATESMarch 14th
You heard it folks, we are super happy to announce that the Southeast Asia server is now online! This means we have servers in four countries worldwide, and are planning the next server launch very soon.
We will also be adding 5 new languages, German, French, Russian, Spanish & Portuguese. All languages will have a dedicated support team to handle any issues you guys may have.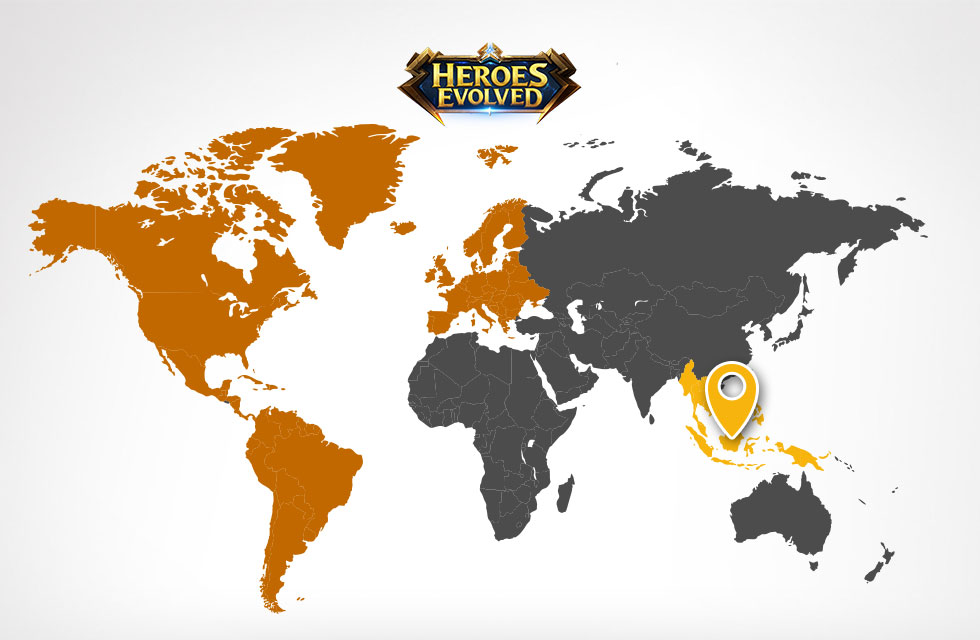 A new Hero will be smashing their way into the roster very soon so pay attention to the Facebook page for more details on Arborus.His Spore Lord skin is also available, you can buy the Arboreal Bundle at a discount for a limited time. Diana's Waspish Stinger and Cleopatra's Golden Queen skin has also been released, these two premier skins are brand new, take a look in the store today!
We also have a whole bunch of in game events, go and check them out! There is an Aluring Chest available, as well as the new Hero and new skins sale for the first 5 days after release. Play as Arborus to receive extra challenges in game! We also have a Goddesses of War quest, complete the quests as certain Heroes to win your rewards.In the Endless War event you can get prizes just for competing in a ranked or matchmade game, how awesome is that! As an extra bonus we also added Arborus and his skin to the lucky wheel, share him on Facebook and you will also get an extra gift!
Don't be anxious if Heroes Evolved looks different, we are changing the background music and UI of the Lobby to be more streamlined. We want to get you in the game as fast as possible, let us know what you think!
We have added the Replay Kit feature to log those unmissable moments, there is livestreaming and screencap support for iOS. We also amended the ranking system, if you are in the top 100 list and you have not played in 3 days, you will lose season points. This new system will make it fair for regular and new players. In Battle Preparation you can also pre-purchase newly announced gear, making you the first to hit the arena with awesome items. Since several players found the quests too difficult we have made some of them slightly easier, but there is still a challenge for you veterans out there.
You can visit the Facebook page here.