Our EU Server is open!
In-game events January 20th | By HE Team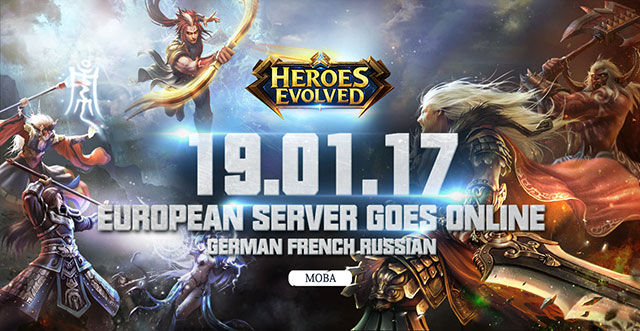 If you haven't tried the mobile version of Heroes Evolved yet, you are really missing out! We have some unique features that blow the competition away. Such as our fog-of-war that reacts to your height in the arena, or our unique balancing system that keeps the playing field level. You can even build your own strategy with in-game items and rebuild your own custom Hero! Download it here from the Google Play store.
Along with our brand new mobile version, we have also opened an EU server for PC players making this the one-stop home for all European fans! We plan to open many more, so let us know where you are playing from. As well as the new server, we have also released 3 new language packs in French, German and Russian to give you the same action packed experience in your native language. To celebrate, we will host some in-game events so make sure you check them out and win that loot.
Not only have we all been working hard on new languages, new servers and unique features, we will also have the PC version available on Steam very soon. As Steam have a high quality vetting process we have had to make sure that we meet their standards - and we passed with flying colors! Stay tuned for more details soon.
To boost our community outreach we have also teamed with ViClans, a new app that connects players with other players. We will have another surprise waiting for you in a few months, but download today as we will be releasing Heroes Evolved Keys for free items very soon. Exclusively available for ViClans users only - download here and control your community!
Don't forget to follow our Facebook page here for current news, or join the community forums here to get involved!