We're releasing the Frozen Treasure!
In-game events December 21st | By HE Team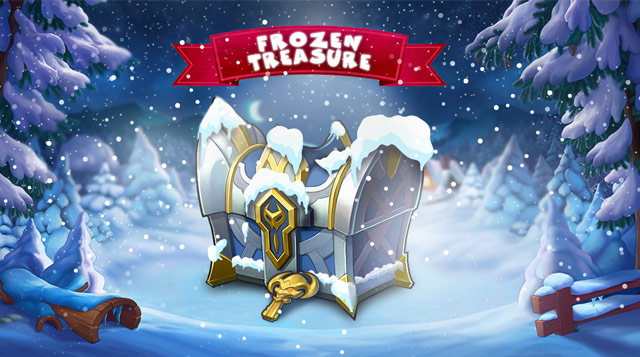 Hey everyone,
We want to let you know what's inside our new Treasure Chests. This month, players have the chance to receive one of the following skins; Father Christmas (King Tut), Poinsettia Mistress (Clarice), Tannenbaum Tortoise (Tortus), Rainbow Ice (Magicka), Mistress of Frost (Crystal), Bunny New Year (Lapina) and Double Happy (Wendy). In Rare and Epic Chests you'll also have a small chance to win a Snowman Avatar with special effects - or a new Nosferatu Skin, not to mention the random possibility of Eye See You, Bright Crescent or Frog Sense skins for your wards. The keys for any Frozen Treasure Chests will not be available until 3rd of January, but they are discounted to just 999 Gems.
As a special festive treat for our players, we're offering triple XP and triple Gold for the whole of Christmas Day! On the 25th of December, simply log in and complete any match to receive 1000 Gold. And take a look at the troops, they are getting into the Xmas spirit wearing their tiny Santa hats!
We also have 2 new heroes available: Crystal and Magicka make their way to the arena to prove a point. Until the 27th of December, each hero is on-sale for just 480 gems. Take advantage while the sale lasts, because these cool heroes can bring some serious heat.
Focusing on magic damage, Crystal shows she has a cold heart. She can pierce and freeze enemies, slow down multiple foes at once and call upon a huge blizzard at will. You'll need to get close to take her down, so make sure you have speed on your side.
Magicka uses her cards, but she doesn't play games! Watch her sleight of hand because she may just play a trick on you. She can cut you down with a flying card or boost her stats with a lucky draw. Don't make the mistake of thinking it's an illusion - these cards pack a punch.
To stay updated follow our Facebook page here, and join the community forums here.