World Finals Begin!
In-game events December 16th | By HE Team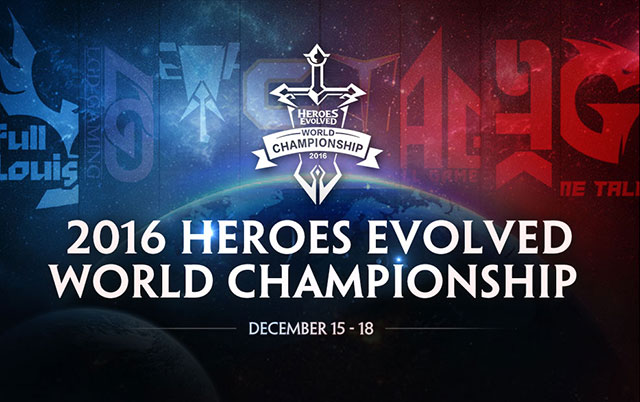 It wasn't long ago we announced the online tournament, now the World Finals are here! Held in
Haixi Animation City, Changle in the Fujian province, the no-expense-spared arena comes to life. With approval and permission from CBS, the arena has been modelled after the USS Enterprise. Yes that USS Enterprise, from Star Trek.
If the arena visuals give an indication of what to expect, this is going to be one of the most exciting esports matches, the industry has ever seen. The Heroes Evolved World Championship is a four-day tournament, where the best teams from China, North America, and Southeast Asia will compete for title of, 2016 World Champions and cash prizes totaling over 2 million Chinese yuan! Bringing the total prize pool of Heroes Evolved Tournaments in 2016, to a staggering 15 million+ yuan.
Until the 18th of December, 10 teams from around the world will compete in a sci-fi fans fantasy, for the grand prize. During the Group Stage, 8 teams from China will be sorted into two groups of four teams. Each group will play in a single round robin, best of 2 (BO2) match-up. Group A consists of GT, STK, EHOME, and MG; Group B consists of WE, EP, LGD, and AG. The top three teams from each group will be split into 2 divisions based on their rankings, and continue onto the knockout stage. Team C, who are representing the American continent, and FL, representing Southeast Asia, will then join and compete for the title of World Champions.
The World Finals are not the only exhilarating event, as the mobile version of Heroes Evolved will be spotlighted at the venue. eSports professionals will be invited to play exhibition games during tournament intervals,with the audience able to experience the excitement of the mobile edition alongside.
Make sure to watch this 4 day competition with an arena brought to life from science fiction, world-class competition, and a 2 million yuan prize all come together in Fuzhou for the Heroes Evolved World Championship.
Check out the Facebook page here, and join the community here.