Heroes Evolved is a lightweight client based game with a heavy focus on real-time strategy and online multiplayer arena combat. Two teams face off in epic battles for supremacy. The team that can destroy the opposing base first wins!

Players select from a huge roster of playable characters, each with their own unique skills and attributes. Earn gold, level up, and acquire powerful artifact items as you co-ordinate with your team, balancing defense and offense on the road to victory!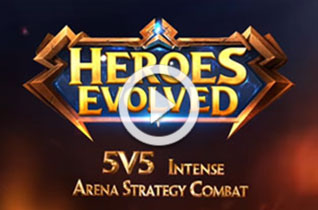 Heroes and Items
Heroes Evolved features an expansive roster of unique playable characters, each with their own distinct combat style. Have a look at the current selection, and keep an eye out for new Heroes - We add to the list on a regular basis!


· Discover the gear ·
Game Modes
Combat in Heroes Evolved takes place on designated battlefields, each map shaping the flow of battle. Familiarize yourself with each map, and uncover their strategic secrets.

· Altar of Strife ·
This battlefield is the primary focus of all conflict in the world of Heroes Evolved. Assemble your allies, and face off in intense 5v5 matches on this iconic map. Featuring three lanes, a vast jungle, and a dividing river, the Altar of Strife has ample room for complex strategic gameplay.

· Valley of War ·
A much more straightforward map, consisting only of a single lane. This battlefield brings instant-action to the table, pitting two teams of 5 randomly chosen Heroes against each other in the ultimate test of skill and reflexes.
VIP Rewards
In Heroes Evolved, players can obtain several VIP ranks, starting at 1 and going all the way to 7. Having higher VIP ranks will yield higher rewards. This means that any purchases you make in the game goes towards your overall VIP level, giving you bigger and better returns!

Custom Nameplate
Each player in Heroes Evolved has a personal customizable nameplate. Every time you perform a special action, such as scoring a double kill, your nameplate will be featured for all players to see. Make it your own with custom backgrounds, titles, and emblems - Then go show off your unique banner online!